Sharing the excitement of discovery
Sharing the excitement of discovery
CERN Open Days will be on 28 and 29 September.
23 September 2013 | By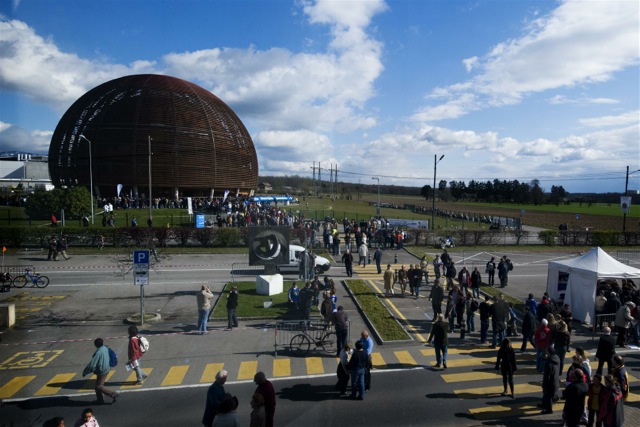 Only a few more days to go before CERN opens its doors and our universe becomes yours on 28 and 29 September. With 35 surface sites and seven underground visits available, there will be plenty of activities for visitors of all ages. CERN Open Days are free but some visits are by ticket-only so make sure you book your tickets beforehand.
Back by popular demand at Point 1 is the ATLAS underground visit to see one of the largest and most complex scientific instruments ever constructed. The detector sits 93 meters below the surface and, with a length of 46 meters and a diameter of 25 meters, is an incredible feat of large-scale precision design and engineering. A limited number of tickets for these visits are available online (Please refer to the safety requirements for underground visits). The emphasis this year is, however, on the range of exciting displays and activities in our Exhibition Tent behind the Globe. Here visitors can:
talk to physicists about the Higgs boson, the challenge of its discovery, and what it means in our understanding of the universe
talk to Computing experts about the challenges faced in the analysis of ATLAS data
visit the ATLAS Cinema (tickets available on-site) to learn about the goals and achievements of ATLAS, and see footage of the construction underground
join a team at the ATLAS Cinema to put together a giant puzzle of the ATLAS detector and win souvenirs
build a detector with Lego pieces and enter it in a competition to win prizes
get tickets on-site for a hands-on demonstration of a real Cloud Chamber, measuring live cosmic rays
try out various ATLAS and LHC interactive applications to learn more about science and have some fun
learn about ATLAS and European Initiatives to communicate the excitement of science to young students
purchase ATLAS souvenirs, including t-shirts, 3d viewers, books, pop-up books, and more
get a free postcard of the Higgs boson, autographed by one of its ATLAS discoverers
take home a souvenir photo of them, posing in front of ATLAS
share their photo from the ATLAS Facebook page.
Most importantly, 170 ATLAS volunteers will be on hand over the weekend to talk one-on-one to anyone who wants to know more about the physics of the LHC, and to share in the excitement of scientific discovery!